The team of Katia Kabanová Opera of the Grand Avignon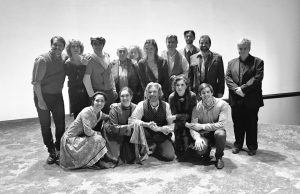 The artists and directors of the new production of Madama Butterfly.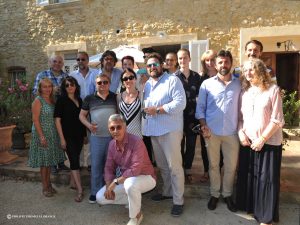 Lately: December 2015: Assistant to the scene life Paris Opéra de Marseille.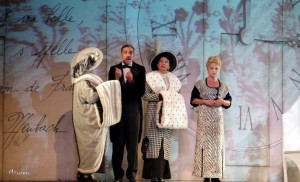 May 2015: Concert Deborah
Association dealing with the «Cabaret Robin Avignon»
Rehearsal, Coaching and directing Franck Licari led by Nadine Duffaut.
The funds raised are fully donated to the FAIRE FACE association for the benefit of sick children in the PACA region.
With Deborah, Georges Mallart-Lion, Daniel Ducruet and Franck Licari
AJAX first in La Belle Hélène of offenbach staging: Jérôme Savary, Director: Frédérique Lombart
One of the executioners in the last day of the condemned by David Alagna, directed by Nadine Duffaut with Roberto Alagna, Opera's Grand-Avignon.
Assistant to the staging of Nadine Duffaut "Puccini's La Bohème" at the Chorégies of Orange:
Urban in La vie parisienne by Jacques Offenback, directed by Nadine Duffaut, Opéra de Toulon, Opéra de Massy, Capitole of Toulouse, grand Avignon Opera, Opéra de nice, and Opera de Reims.
Traviata by verdi directed by Nadine Duffaut:
AJAX 1 in La Belle Hélène of Jacques Offenback directed by Bernard Pisani.
The leader of the bandits in Jules Massenet's Don Quichotte, directed by Danielle Ory, at the Opéra du Grand Avignon.
Urban disguised as Dalida with in the life Parisienne by Jacques Offenbach staging Alain Marcel
Jamie and Harry in My Fair Lady from Frederick Loewe, directed by Alain Marcel, choreography James Sparrow Co) production Royal de Wallonie, the Esplanade Opera Theatre of Saint-etienne, Metz Opera – Opera Theatre, Opera du Grand Avignon, Théâtre des Arts – Opéra de Rouen, Théâtre du Capitole de Toulouse, Théâtre Municipal de Lausanne  
With Bernard Alane, Bernard Larmande, Bernard Valdeneige, Helene Duke, Edith Perret Hana Yanez…
 Backing vocals by Jean Michel Jarre for "Everything is blue" in the album "Metamorphoses" showcase the Man Ray (31/01/2000)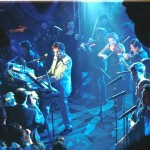 Ambrose Quimper in Hello Dolly of Jerry Herman, directed by Bernard Broca, choreography James Sparrow (Co) production Opéra Royal de Wallonie, Grand Theatre of Rheims, Opéra de Marseille, Opéra de Nancy and Lorraine 
With Nadine Montevecchi…
Pritschitsch in Die lustige Witwe (the Merry Widow by Franz Lehár directed by Nadine Duffaut
 Ambrose Quimper in Hello Dolly of Jerry Herman, directed by Jacques Fabre
  Jacques Chastenel in our crazy years Opéra de Tours
CONSERVATOIRE National Supérieur de musique et de danse Paris Conservatory
From left to right
Marie Zamora, Sylvie Aveline, Dominique Pautas, France Pennetier pianist, Isabelle Philippe, Nicole broissin Professor,
Remi-Charles caufman, Valentina Vagliani, Pierre-Yves Duschesne,
Franck Licari, Fabrice Mallet, Gilles Bugeaud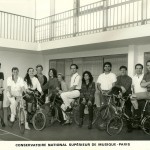 Debut:
Debut: choir of the French army, Republican Guard, at the Royal Albert Hall